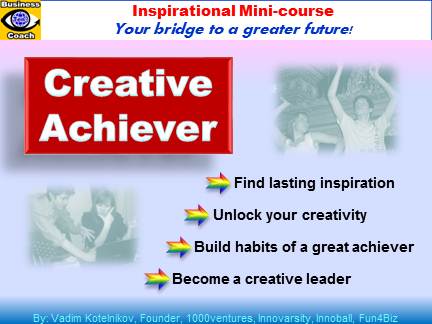 Creative Achiever
Follow your heart and intuition. Your passion will lead you to inspiration and completion. That's all you need. Follow you inner direction, not external suggestions. Don't split your energy. By trying to chase many rabbits at once, you'll catch neither. Focus, if you wish to hit the mark, and pursue your true passion, if you wish to be creative. Creativity is your key to a brighter future. Creativity gives you an incredible source of adventure, achievement, self-discovery, connection, spirituality, awakening, self-worth, identity, healing, happiness, energy, and power.
1. Find Lasting Inspiration
2. Unlock Your Creativity
3. Build Habits of a Great Achiever
4. Become a Creative Leader
Find Lasting Inspiration
Three Intertwined Pillars of Inspiration
3 Attitude Tips
3 Expertise Tips
3 Exploration Tips
3 Cross-pollination Tips
Dream Big Dreams
4 Powerful Attitudes
Be Different and Make a Difference!
Life-Business Synergy
Unlock Your Creativity
3 Pillars of Creativity
2 Creativity Catalysts
Challenge Assumptions and Status Quo
Lateral Thinking
Think Outside-the-Box
Ask Searching Questions
Discover and Build Synergies
Solve Problems Creatively
Turn Problems To Opportunities
Problem Solving: Tap Into Your Subconscious Mind
Make Creativity a Habit
Build Habits of a Great Achiever
8 Winning Habits of a Great Achiever
Yin and Yang of Achievement
Find Your True Passion
6 Steps To Developing a Grand Vision
Embrace an Achievement Attitude
Create Inevitable Success
Make Decisions Quickly
Create Greater Value for Others
The Wheel of Personal Success
Achievement-focused Self-Coaching
Be a Creative Leader
Leader 360
Create Change
How To Lead Creative People
Creative Leadership DOs and DON'Ts
Learning SWOT Questions